Places to visit in Las Palmas
Hola Las Palmas!
Las Palmas is located in the north-east of Gran Canaria. With its own harbour, it is a major arrival port for cruise ship visitors docking right next to the El Muelle shopping centre. But Las Palmas can also be reached quickly and easily from the south via the wide motorway.
If you like shopping, you will certainly enjoy yourself in e.g. Las Arenas, Siete Palmas, Las Terrazas, El Mirador, or in the newest Centro Comercial Alisios.
Also  you can enjoy shopping on the shopping street Triana, or strolling in El Corte Ingles. In short, enough shops to visit.
Are you more the type of culture sniffing then we have some suggestions:
Plaza de Santa Domingo, the heart of the old town
The dreamy old town of Vegueta, is a wonderful location for a relaxed city stroll. Located in the oldest part of Las Palmas, Vegueta is an oasis of calm in this busy city. The oldest church in the city, Santa Ana Cathedral, is located here. The square in front of the cathedral was built around 1841 and is surrounded by beautiful buildings with wooden balconies. There are also eight bronze dogs that supposedly guard the square, and is definitely a location for a nice photo opportunity.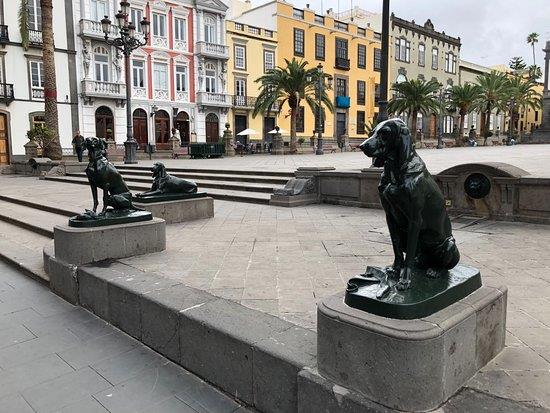 Playa de Las Canteras
At the top of Las Palmas is one of the most famous sandy beaches in Europe:
Las Canteras. Las Canteras is an ideal beach for long walks thanks to its more than two kilometres of promenade along the golden sand.
When the sun goes down, it is a pleasure to see the promenade lit up by the nightlife of the terraces, pubs and restaurants.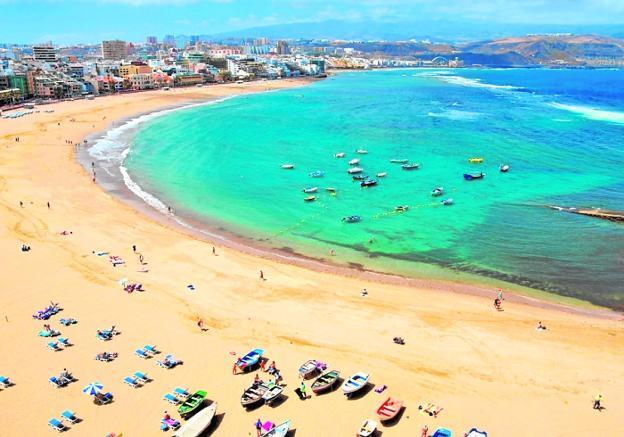 The House Christoffel Columbus
A showcase in terms of architecture what else Las Palmas has to offer is the House of Christopher Columbus. This former palace used to belong to the governors of the island and was used as their official residence. In 1492, Christopher Columbus is said to have stayed here while one of his ships was being repaired. The building has been accessible since 1952, and here you will find a permanent collection, a library, a study centre and numerous pre-Columbian artefacts connected with the history of explorers such as Columbus. Of course, Las Palmas has a lot more beautiful things to offer, but feel like a little Columbus and go exploring in Las Palmas yourself and find some great gems during your holiday.